Ride the Wave Album – The Full Story
I would like to thank the good people at Facebook, Instagram and TikTok. Without them, my new album "Ride the Wave" would not have been written, arranged and produced.
And I would like to give special thanks to Caleb "kbc" Sherman, arranger, mixer, producer and musician extraordinaire and to Paul Logus for mastering the album to perfection (http://plxmastering.com/).
The pandemic feels like one of those endless rainy days that I hated as a child. Boring!!!!! Back then, on rainy days I couldn't go out. According to my mom, if I were to get my hair wet I would most certainly catch a cold. Apparently, everyone else's mother thought so too. There was no one to hang around with on rainy days. At home, I was on lock down with the same old toys. No guitar then. No Internet…
At least nowadays I can entertain myself with my guitar. I go through the pandemic's "endlesssssss rainy day" writing and recording new songs. I thought I'd release an acoustic album this year. Just my voice and my guitar. This sounded like a good plan until:

Facebook Message from Caleb "kbc" Sherman sent to Jay Elle on January 15, 2021

"Holy shit. I can't believe it's you! I've been thinking about you for all these years. Your music is awesome! I've been looking for you for a long time. I hope all is good with you, I'm doing good. Still music for me, I have a studio in Nashville where I live now, but I am in nyc all the time. I would love to see you and catch up. I can't believe how long it's been. I miss ya man!!!!"

Response from Jay Elle:

"Hello Caleb. Glad you are doing well. Thank you for the kind words. Right back at you! I have visited your studio page and checked on you via Facebook now and then. Your work is brilliant. As I imagined it would be. You always had fantastic ears, musicality and talent and a great brain as well. Congratulations on your achievements. I don't "vacation" in the past much. Partly because I don't have that great of a memory and also because I'm always busy with the next thing. But I have great memories of our work together. I'm doing amazing. Thank you for asking."
"By the way, what is your rate for producing a song?"

Caleb:

"I have been looking forward to reconnecting with you for real. To answer your question about rates for producing tracks….if it's your music….. I would be f*cking thrilled to work with you on your music for the same rate you charged my band 'What's Up', to put up with 5 a**holes! Zero $. I sincerely loved the tracks I heard of yours, and if you are set up to record at home, we can most definitely work remotely."

Jay Elle:

I was of course hoping that we could work on a track together. That would be a blast. Thank you for your generous offer. We can discuss it further in a few weeks. I am writing new songs. The first step would be to listen to the basic one guitar and lead vocal roughs and for you to decide if you are inspired by one of them. Then we can talk about the details. I just wrapped up writing the melodies for a bunch of them. I will be tackling the lyrics soon. Hard to tell for sure when I'll have anything for you to listen to.
But there is another reason why I asked about your studio rates. I worked with a gentleman named Michael Stover (http://www.mtsmanagementgroup.com/about/). I think he might be located in Nashville. I thought he might be a good contact for you. Michael did a great job with my last 2 releases in terms of getting reviews, etc."
Jay Elle (left) and Caleb "kbc" Sherman (right), producer of the album "Ride the Wave". Circa 19..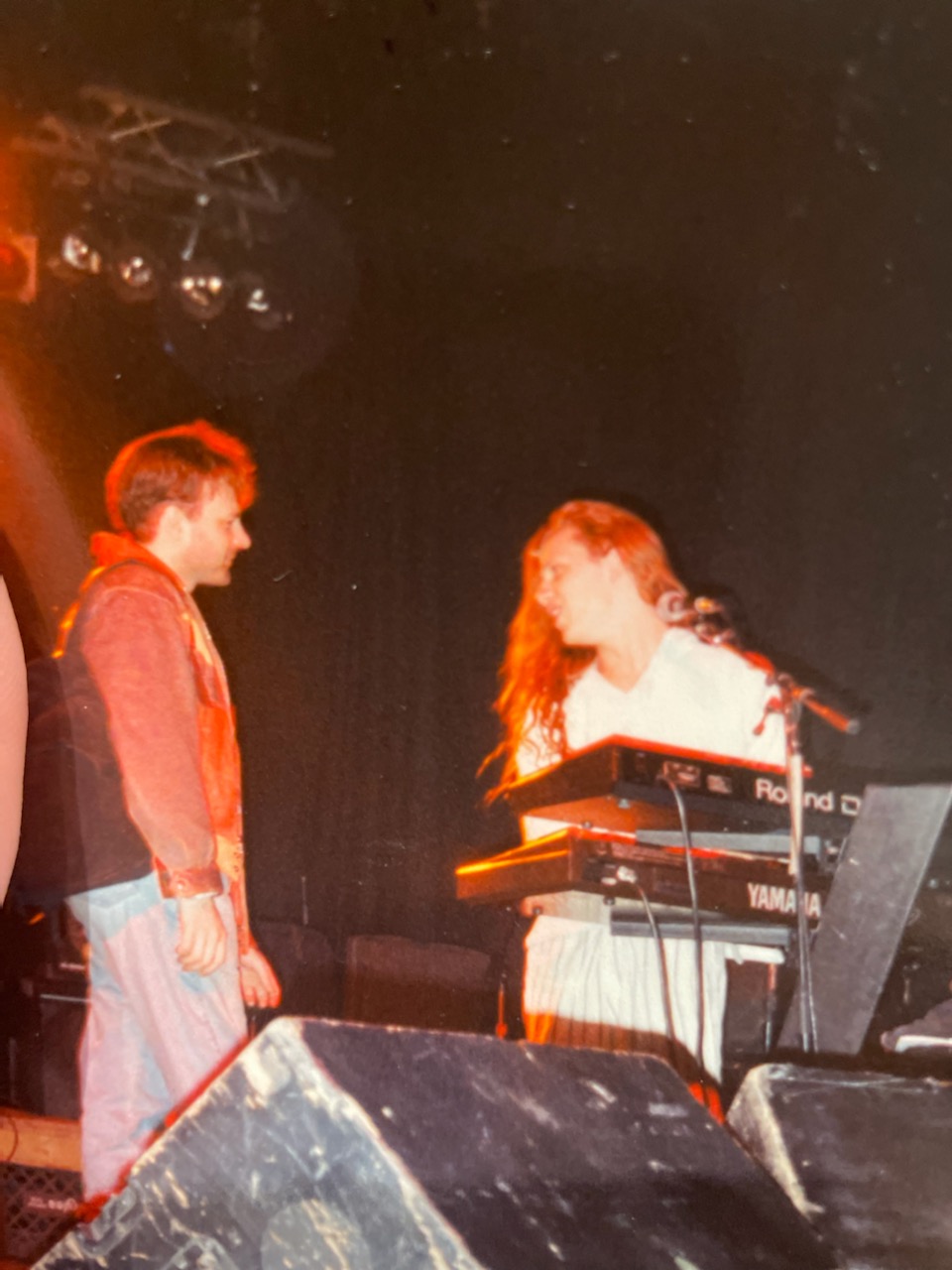 After this exchange I sent Caleb two older songs so he would have a sense of what I would provide to him: One lead vocal track and one acoustic guitar track. Within a few days, Caleb sent me this amazing arrangement and production of one of these two songs: "Twelve on Sunday". Wow!!!! Caleb did a great job. I sent it to my best friend Philippe Blin who taught me a few chords when I first started playing guitar and has been listening to all of my songs ever since. He loved it. He is a great musician. He did not pursue a music career but has great ears. I sent it to a couple of other people and the reaction was the same: Excellent! Eventually, Caleb arranged and produced the second song I had sent him: "Who's Camille". Same set up. I sent him the lead vocal track, the guitar track and he worked his magic around them. I sent these newly produced versions to a couple of radio promoters who had worked with me in the past and they were very impressed.

Radio Promoter #1:

"These tracks are fantastic! Your last album was impressive, but these are a big step up in terms of songwriting and everything else, at least to my ears. I especially like 'Twelve on Sunday'–you could have told me that was written by McCartney and I would have believed it. These would be great for AAA and Americana radio. When do you think the album will be ready?"
The second radio promoter tested the songs and "Who's Camille" got 4 stars and "Twelve on Sunday" got 3 stars. Both these ratings mean that the songs are ready for radio.
Around April 15 I finished writing 30 new songs. I asked Caleb if he was inspired by any of them. Caleb picked 10 and went to work. And the album sounds AMAZING!!!!!!

About the songs:

I've been spending quite a bit of time on social networks during the pandemic's "endlesssssss rainy day".
The title track on the album is "Ride the Wave". My friend Jett Harris, with whom I recorded a few albums and countless songs, takes great pictures of surfers, among other subjects he focuses his lens on. (Instagram @jettt1209). I was inspired by these pictures.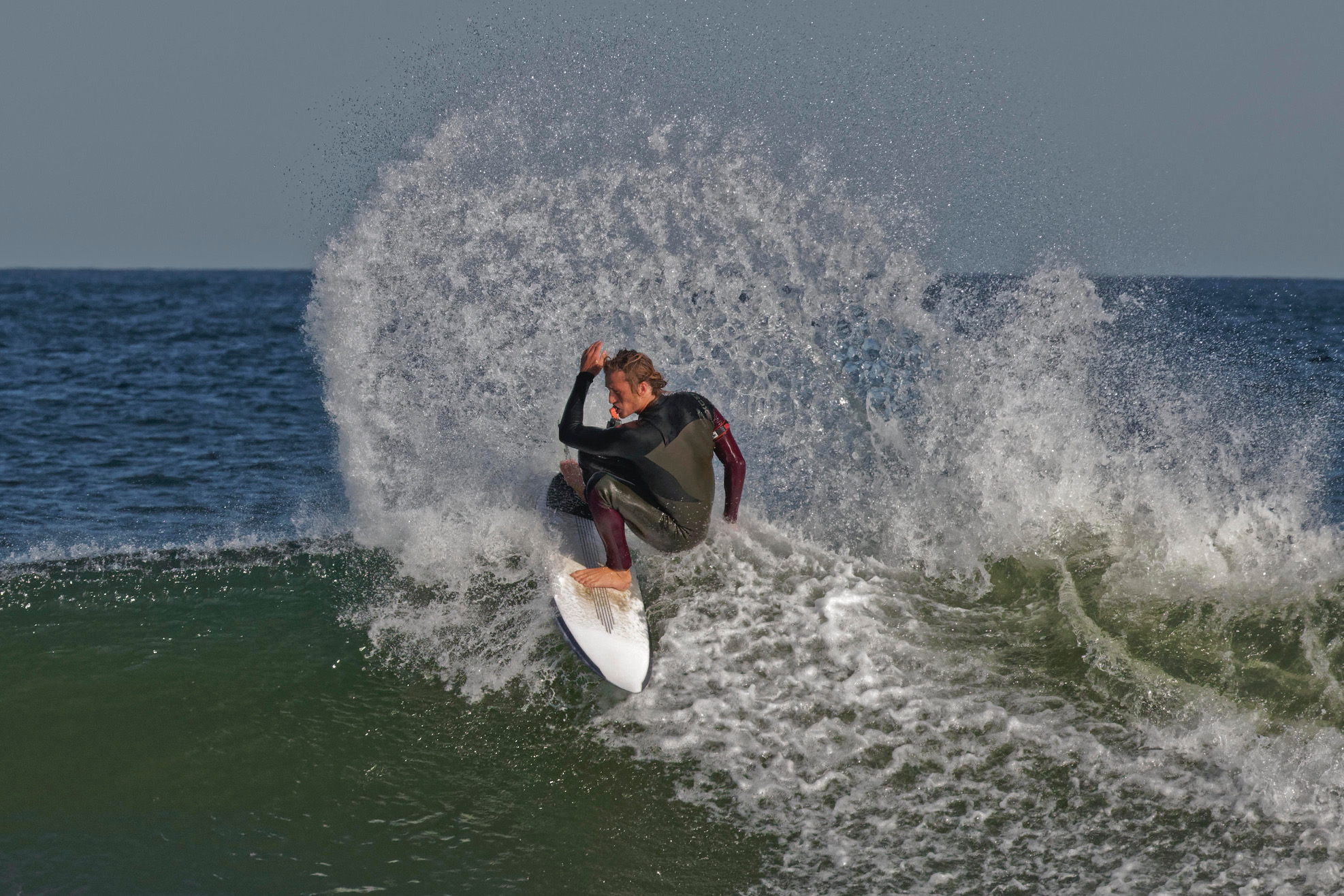 I think that much of what we do in life is ride one wave after another, as best as we can. Some waves are fun to ride, like recording a new album, and some are tough. Riding a pandemic is no picnic. But what choice do we have? I take life as it comes, and ride the wave. I take the point a little further in "Better Luck Next Time". As my friend Jett Harris reminded me: "Surfers are really cool interesting people and their philosophy on surfing is very similar to your analogy of waves and life. The adage "Luck is when opportunity meets preparation" is appropriate as you never know when you're going to get the opportunity to ride that really great perfect wave, but you hope to be ready to take advantage of it. If not you'll find sympathy in the dictionary between sh*t and syphilis."
I also follow the Vampire Diaries lead actress Nina Dobrev. (Instagram @nina). I am a big fan. So, I wrote a song about my experience as a fan and follower: "Tequila Kiss". I do think she is a terrific actress. If we ever meet, I would love to discuss how she prepares for a part. She is "all emotion". And always very precise. And very entertaining, on screen and on Instagram.
The other songs on the album have a lot of water and air references as Vivienne V. puts it. Vivienne has taken pictures for my website and the covers of my last few releases, including "Ride the Wave". She is an astrology buff. She picked up on the power water and air sign I have in my chart and my preference for sunny days.
"Morning Rain" shows my ever so optimistic approach to love and life, advising anyone who wants to hear it that things will get better, no matter how bad they may be.
"Rainy Day" gets me dancing around my apartment every time I put it on. If there's ever one way to pass the time through a pandemic, it's enjoying the beautiful body of someone you love.
"Miss Mess" is a song that reflects on the strange "relationship" I developed with the TikTok algorithm while on lock down. I get served these incredibly entertaining posts by women from around the world. The ladies are dancing, joking around, acting, shooting arrows, exploring beautiful sites, playing with their pets, venting about their boyfriends, playing pranks, flying helicopters, etc. They seem to be in total control of my life for 30 seconds or so. And there's nothing I can do. Of course I could stop watching… But I am liking it. A lot. There is always some "messy" elements to these posts. And some of these ladies are reckless and sometimes flawless in their recklessness. I love watching puppies. I had dogs. Cavalier King Charles. They all passed away, sadly. I wrote a song titled "Angeling™" in their memory. But TikTok doesn't serve me a continuous stream of videos full of doggies for some reason. Just them ladies… Some of these ladies are pretty intense. You've got to see the gymnasts. Wow! And the military ladies. Intense. Some great actresses lip-synching to movies and TV shows dialogs. Very funny ones too. I don't always understand the thrill of some of the stunts, like jumping from the roof of your house into your pool. But, to each her own. After all if there isn't a "tsunami" hitting your shores, you may as well create one. Make a TikTok.
Caleb "kbc" Sherman, who produced the album did a magnificent job capturing the spirit of all the songs, especially rendering the feel of "Miss Mess". There's a groove to it that gets you going from the moment you start the song until the end. Perfect for walking down the New York City streets. The sounds are perfectly chosen to express the multitude of playful scenes I see on the TikTok videos. It's witty and you keep discovering clever touches that Caleb introduces through the course of the song.
The algorithm is working so well. So much so that it inspired another two songs: "She's So Fine" and "Insane".
I touch on a few other subjects in this album:
"Angeling™" is a tribute to my departed puppies. What a life dogs live. Lots of time spent sleeping, but definitely acting like angels when awake… The song is also about lying down at night with the one you love.
In "Want Me Bad" I tried to make the case that a relationship is a two way street. If you want someone to "want you bad" you should want them bad as well, as in "badly wanting". Not just want them to be bad on occasion, or all the time, whatever floats your boat. As in "entertain me, be bad…" You get the gist of it.
"Who's Camille" reflects on the twists, the turns and the "fluidity" of love.
"Twelve on Sunday" is about the daughter I don't have, wondering what a father would feel like if his twelve year old ran away.
Thank you for listening.
Jay Elle