Reviews, Interviews, Feedback from DJs and Radio Programmers
Jay Elle's album, RIDE THE WAVE, was selected for the 2022 Grammy® Nomination Ballot for the Best Pop Vocal Album category.
Number 19 on the TOP 40 National Radio Hits: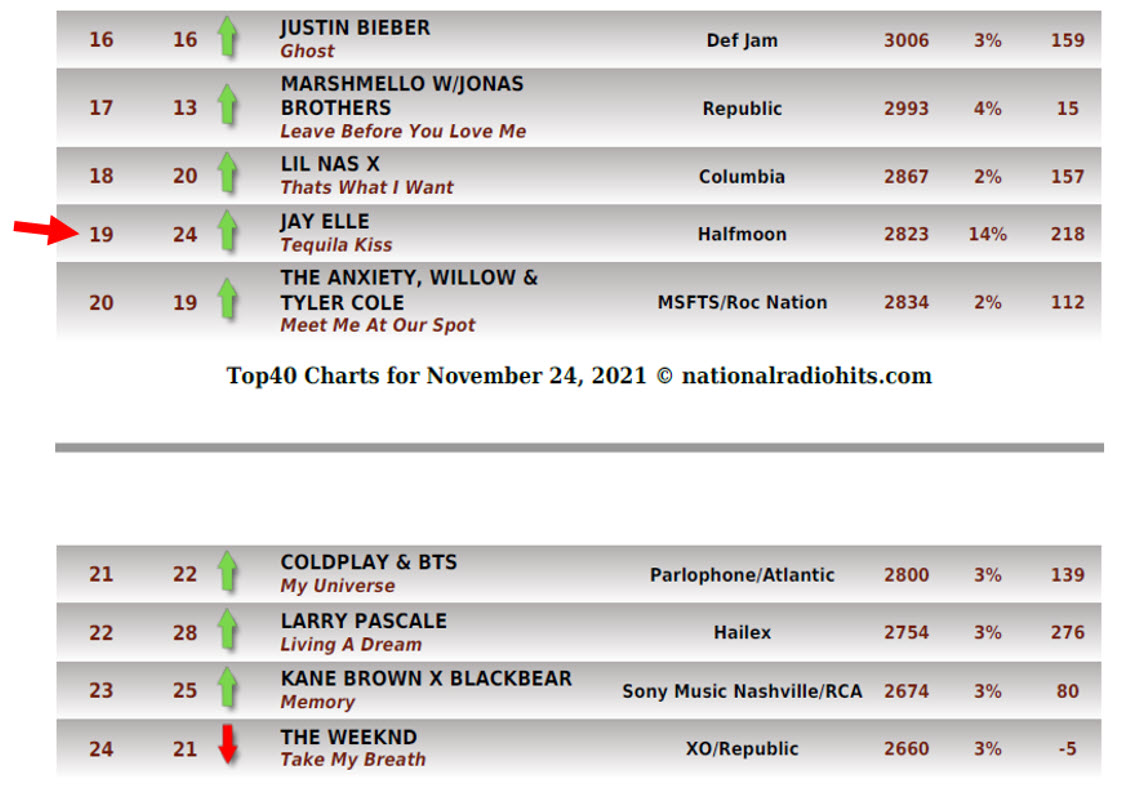 For more information about Jay Elle check the: EPK
Ride the Wave album released August 27, 2021
Reviews:
"RIDE THE WAVE: Nominated for ALBUM OF THE YEAR. If you aren't listening to Ride the Wave right now, you don't know what you're missing." Mark Druery – IndieShark
"This is a juggernaut of an LP that doesn't ask questions nor apologize for any of its emotional output, which makes it an instant classic in my book for sure." Chadwick Easton – Melody Maker
"We also can't forget to mention just how good the songwriting on "Ride The Wave" is, with some truly great lyrics. Emotionally charged songs hit hard, and the more laid-back ones match their vibe. It's not an overstatement to say that "Ride The Wave" is one of the most interesting, fun and enjoyable albums to have released in 2021. Musically diverse and lyrically dense, it effortlessly keeps your attention as it shifts through different genres and themes. Jay Elle really shows off how talented of a performer he is, and he's one you'll definitely want to keep your eye on in the future." Jason Airy – Indie Pulse Music
"'Tequila Kiss' is a magnificent party tune. This track offers many fun and stylistic aspects which invoke dance and sing-along reactions in his crowd." Al Geiner – Original Rock.net
"Jay Elle offers a spine-tingling pop phenomenal with the single "Miss Mess" off of his "Ride The Wave" album. His eclectic discography flaunts of the 12-piece musical expedition dubbed "Ride The Wave" album which shares with its listener the secret to enjoying a healthy and joyful life in the face of uncertainties and the pandemic. This is like a secret recipe and life hack meant to bring out the best in each and every one of us as we take in and appreciate all the awesomeness that engulfs such miraculous beings as us!" Delvin – Tunepical.com
"Jay channels the essence of his signature style in a new release off of his Ride the Wave album titled "Miss Mess". "Miss Mess" is a punchy, retro tone pop track which has a playfully seductive undertone as Jay details the circumstances of a man enveloped by the wiles and physical appeal of a woman who he has an almost uncontrollable attraction to despite her shortcomings. The Caleb "kbc" Sherman produced track has a buoyant, colorful tone that is a harmonically engaging throwback to the sound of the 80's pop hits that still resonate to this day." StreamLINE Music Blog – A Music and Entertainment E-zine
"'Ride the Wave' is just a delectable assortment of melodic pop rock that's a testament to an artist's ability to infuse good vibes in the darkest of times. Personal favourites for me come out in the titular piece and the more experimental and poppy 'Miss Mess'. Don't miss out!" Kartik Sundar – FindNoEnemy
"Jay Elle is an absolute phenomenon that has been hiding in the shadows for some time. It's probably time to share his music with a larger audience and you can be a part of that!" Rohaan Palaparthy – Sinusoidalmusic
"Jay Elle has evolved his artistry over his lengthy career to keep every release fresh and astounding to the listener, and his latest single, "Miss Mess," is no different." Muzic Notez
"Mit Miss Mess veröffentlicht der us-amerikanische Musiker Jay Elle eine Videoauskopplung aus seinem durchaus gelungenen Album Ride The Wave. Stilistisch eine Melange aus Rock und Pop der gefälligen und Mainstreamtauglichen Art, wurde Ride The Wave, produziert und gemischt von Caleb "kbc" Sherman (Cygnus Sound Studio)- und gemastert von Paul Logus, ist Ride The Wave ein fantastisches Album, welches das Werken eines fähigen Musikers, Sängers und Songwriters in den Fokus stellt, welcher bekannt für sein Tiefgründiges Sounddesign ist." Excess Mag
""Ride the Wave" is a 12-track album that features genuine tracks that serenade the heart as much as they entertain. This is an impactful musical interlude to remind listeners all over that despite the anomalies, the sun will shine again- but before then we cannot just sink ourselves in deep hopelessness." Certifiedbop.com
"As a writer I almost always find myself ahead of the song lyrics and find myself predictably guessing the upcoming line in a song. Usually this is pretty easy to do. However Jay Elle has kicked it up a notch with his song "Miss Mess." Jay Elle and his team have arranged "Miss Mess" to be very listenable and you can also sit back and enjoy the video as it does add some enhancement to your experience. Not only does the video appear well planned but it is simple enough to not distract from the song and even adds to the way it flows." Dashal Jennings – The Daily Banner
"A greatly crafted song, 'Tequila Kiss' is performed with excellence in music as well as vocals… This song outsmarts the expectations of even a musical genius. Definitely listen to 'Tequila Kiss' by Jay Elle." Kedar – Melodymine Magazine
"Miss Mess is a clever little piece filled with satire, and perception as Jay Elle describes the subject of his fascination and the personality traits she exhibits. As the song grows in popularity and we begin to have a deeper appreciation for the troubadour nature of Jay Elle's songwriting form, new and quite significant aspects of this track present themselves. First and foremost, I am still being taken aback by the great tonal quality of Jay Elle's voice, in particular the beautiful way he fills the room when he opens up his voice during the chorus sections of this track. The emotional and welcoming feel of his voice allows the listener to feel it in their chest as the powerful enunciation of certain passages hits on different frequencies from the musical mix. The gravelly nature of his voice contrasts with the overall beauty he is able to portray." Lee Callaghan – Honk Magazine
"New York City singer-songwriter Jay Elle has crafted tasty melodic pop-rock music, with an international flair. "Tequila Kiss" received national airplay charting and reached the international iTunes charts. "Tequila Kiss" is a love song by any other definition, it is a pronouncement of devotion and adoration to his subject with clever lyrics and vivid imagery of time spent on the beach sipping drinks and feeling free. "Finally get the taste of the salt, the salt off your lips, from your 'Tequila Kiss."" Honk Magazine
"This release from Jay Elle called "Tequila Kiss" from the album Ride the Wave is nothing short of amazing. Listening to the song put me in a happy tropical mood. Even though it's a little early in the day I hear my Cuervo Gold bottle calling my name here… It looks like Jay Elle made good use of his time over the pandemic to share his talents in a positive way. I would advise fans of good music to pick up a copy of the album and sample the flavors afforded to your ears on this CD. You may end up with a new favorite artist no matter your preferred genre. This music critic gives "Tequila Kiss" 5 STARS." Dashal Jennings – The Daily Banner
"'Tequila Kiss' is one of the songs that you can feel the flow, and through such smooth lines, you can even swing with it while listening to. The charm here comes not with his music only but through such emotive vocals." Mena Ezzat – Rock Era Magazine
"Jay Elle brings uniqueness with the way he makes the songs he creates his star with his lyrical writing style packing such a punch as he continues to amaze the pop world with his unpredictability and flexibility. He is an artist on a journey, offering some very crucial life lessons through his vivid storytelling and emotion packaged nicely in glittering melodic boxes!" African Hype
"Jay Elle combines his striking vocal fascination with ear-gracing instrumental play as he is able to paint vivid imaginations into powerful melodies with universal appeal. His 12-track album "Ride the Wave" was received with desrved accclaim and the hole of that musical experience reminds us not to be afraid of the things we have little or not control over that we stop living." Daily Music Spin
"I think Ride the Wave is a nice enough album and it is definitely meant for a very specific audience, but I believe there is a lot of charm and quality in the sense that there is a clear musical focus and direction while adding little touches here and there to make the whole experience a bit more varied. That was a smart decision and it shows how serious Jay Elle is as a musician. Definitely worth your time." Kevin Tanza – Musikholics.com
"Jay Elle Dazzles on Buoyant Pop/Rock Smash "Tequila Kiss". When you hear the eclectic stylings of pop singer songwriter Jay Elle, you can't help but experience a burst of optimism and positivity as the New York City based artist's music is defined by its upbeat messaging and witty lyricism. Jay captures his signature sound expertly in an exquisitely written track called "Tequila Kiss" off of his Ride the Wave album. "Tequila Kiss" is a pop track with undertones of alluring rock guitar melodies which also contains a distinct Latin phrasing in certain sections. The composition and musical attention to detail catches your attention immediately! It creates an overall aura and soundscape that is nostalgic and retro in its tone, almost an Old World type of feel. "Tequila Kiss" brings forth quite a unique concept and background story as Jay coyly details a hypothetical encounter between he and Nina (Nikolina) Dobrev, the popular Vampire Diaries actress." Streamline Music Blog
"'Tequila Kiss.' A rather catchy infectious hook gets explored in full. Instrumentally vibrant, he constantly adds more into the mix making sure to keep the listener on their toes, for it all has a considered, compassionate quality to it. By allowing all of this to interact there is a decency to be found here, one that feels ever so inspiring." Skopemag.com
"Ride the wave is very well produced and very well played and sung by Jay Elle. If you are into Acoustic pop-rock, give it a try by clicking on the Spotify link below and don't forget to follow the artist." Giovanni Gagliano – Given To Rock
"Acoustic Pop Superstar Jay Elle Gives a Compelling and Heartfelt Performance in the Single "Miss Mess" off of His "Ride the Wave" Album. This is bliss with more than 53.7 K Spotify streams and can be best enjoyed over a beach somewhere as you marvel at the ocean with the sun extending across the full length of some pure clouds- the speakers thumping with "Miss Mess", the heart beating and the feet tapping to the beats! Follow the attached link and let Jay Elle wash away your agonies." Tempostub.com
"With the album Rising Tide, Jay Elle proved that he was as at home with the full-blown rock vibe as he was with more rootsy sounds. Here, he takes on the pop world and the results are great. Miss Mess is a pop song for sure, one that chimes with sweet and addictive vibes, pulsing pop beats and easy and accessible lyrics, but it is still a world away from most of the sounds and songs that you associate the genre with, especially in the modern age." Dave Franklin – Dancing About Architecture
"Very well placed guitars with drive and a cleaner vibe are the flagship of this release and show the high level of Jay Elle as an experienced musician that he is and bring a broad musical panorama full of climates that open the most varied paths for us to discover his work." Fabiano Menon – Roadie Music
"Artist and guitarist Jay Elle as recently released a brand new studio album titled "Ride the Wave." This release actually features 12 songs, making for a very diverse and creatively astonishing setlist. The second song on the album is a track titled "Tequila Kiss," which feels like an incredibly creative example of what Jay is capable of as an artist and songwriter. The song kicks off with a beautiful guitar lick, adding a nice mediterranean flavor to the groove, something that reminds me of bands such as The Doobie Brothers, Steely Dan, or Dire Straits, only to mention but a few. The musicianship is pure class here, and the way the vocal melodies unfold have almost a "Beatles-like" quality to them, reminiscent of some vocal phrasings that you could expect from absolute giants such as Paul McCartney. Ultimately, this song has a pleasant retro flavor, while still retaining a modern feel." The Band Camp Diaries
"I've got a track here called "Miss Mess" from Ride The Wave – and there's probably a great argument to be made that it could very well go on to become one of the most addictive tunes you'll end up with on your playlists this year. These are the situations I tend to love the most out there in my own personal experiences with music – I've read SO MANY amazing things about Jay Elle at this point, that making any kind of positive impression at all should have been practically impossible afterwards…yet here we are, and he has indeed, not only made a significant impression with "Miss Mess" – but supplied a track that's gonna hold up over time, no problemo. Essentially, it put my mind at ease right away…the marketing team ain't lyin' to us this time around – Jay Elle really is THAT awesome, and this single proves it, 100%. In terms of a gateway into a record, "Miss Mess" should be massively enticing for a whole lotta ears out there wondering what else they'd find on his full album – there's nothing BUT single-worthy sound here." Jer – Sleeping Bag Studios
"Whether it's the blunt "Want Me Bad," affectionate "Miss Mess," or striking "Insane," one thing can be counted upon in Ride the Wave, and it's that this is one alternative rock record that doesn't live in the same aesthetical universe as its parents did." Jennifer Munoz – Vents Magazine
"With Miss Mess , the American musician Jay Elle releases a video release from his thoroughly successful album Ride The Wave . Stylistically a pleasing, mainstream-ready blend of rock and pop, Ride The Wave was produced and mixed by Caleb "kbc" Sherman (Cygnus Sound Studio) and mastered by Paul Logus , Ride The Wave is a fantastic album that showcases the works a capable musician, singer and songwriter, known for his deep sound design." eXcess Magazine
"Seasoned singer-songwriter Jay Elle fills the hearts of the listeners with unexplainable joy and happiness with his latest refreshing release 'Miss Mess'." Jennifer Stone – Daily Music Roll
"Jay Elle Dazzles With Smooth Pop Single 'Miss Mess'." Lee Callaghan – Music Crowns
"We don't know if the songwriter Jay Elle was shooting for this but his song, "MISS MESS," is endearingly adorable. The song structure and lyrical twists and turns make us want more. The melody is catchy and happy. There is not one bad thing I can think of to say about this song. It is just that good. The Music video is equally adorable with some imagery that won't quit. See for yourself right here." Backstage Pass News
"'Tequila Kiss' shows off the magical touch of Jay Elle in crafting a sound that stuns with its simple direct approach." Beach Sloth
"'Tequila Kiss' features an up-tempo swing that features Jay Elle's fast, intricate vocal techniques as he utilizes a double-tempo vocal over an open chord guitar melody. You can see the artist's effort and talent in creating excellent lyrics with powerful messages, to incorporate pop, rock and more intimate vocal and guitar arrangements. The blues and jazz influence is very strong in this single, and will delight all listeners." Jessica Sea – Headbangers News
"Everything can inspire the artist to make songs. From small fragments of real life to a tv commercial. And in this all can be born beautiful songs that will mark our hearts more receptive and affectionate. This is the case of Jay Elle who released his newest single "Tequila Kiss", a beautiful inspiring work that manages to win over the listener very quickly." Gleison Junior – Roadie Music
""Miss Mess" is one of the most interesting pop tracks that | have reviewed this year." Which Coast – whichcoast.com
"A neat balance between pop and dance, never neatly settling into either. Over the course of the piece, he makes sure to bring more color into the mix. Evolution has a naturalistic flavor to it for it has a swirling, almost shoegaze-like element to it, very understated. For the final stretch his voice begins to truly bloom, as the range increases and so does the sheer volume of the work." Skopemag.com
"It's quite impressive just how sleek and seamless "Miss Mess" is. Every single element is well thought out, and then performed perfectly. Jay Elle has a clear knack for conceptualizing new, interesting ideas and fleshing them out with great hooks. "Miss Mess" is a cut from Jay Elle's album Ride The Wave, and that's also an enjoyably pleasant romp through some really creative soundscapes. Jay Elle is a talented performer, one you'll definitely want to keep your eye on in the future." Jason Airy – Music Existence
"I just got exposed to the music of Mr. Jay Elle a little while ago, but based on what I have learned about him from listening to Ride the Wave, his is a brand of rock soloist that the genre needs a lot more of in 2021 and the future. He isn't self-conscious nor self-absorbed; he's actually got the makings of a pastoral troubadour, but with an affinity for volume that you don't find in a lot of folk singer/songwriters. Everyone has been talking about rock seeing a big comeback in the next couple of years, and I think that if it's ever going to happen, it's going to be led by players like Jay Elle and the indie movement they're inspiring around the world." Garth Thomas – Hollywood Digest
"This is a tremendous record, and premium listening whether you're a newcomer or a longtime fan. Emotional and unafraid to show it, Jay Elle is a singer/songwriter who leans on his guitar and his swelling wit freely rather than because he has to, and right now, his new album is one of the most trustingly relatable you can get your hands on." Nicolle Killian – Mobyorkcity
"Jay Elle pours his complete soul into the stunning and cerebral approach of "Miss Mess"." Beach Sloth
"Tequila Kiss. From start to finish, there's a lot to love about this tune." Call That Music
Interviews:
The Phil Kranz's show – Jay Elle on Blackdog INDIE Country Radio. The Phil Kranz's Show
10 Indie Music Interview Questions with Jay Elle. Indie Music Interview
Muzic Notez Interview June 2022 Muzic Notez
Catching up with acoustic rock pop singer songwriter Jay Elle. by MYSOUNDMUSIC – Vocal Media
Jay Elle's exclusive interview with Honk Magazine Honk Magazine
Jay Elle – Singing Is A Wonderful Experience, I Find It Challenging And Rewarding For Itself, It Requires A Lot Of Dedication And Energy (Singer Songwriter From New York) Interviewed by – Deepshikha – Eat My News
Jay Elle on Live and Amplified Podcast! Live and Amplified
Jay Elle was recently on CSB.TV! Check it out! Musical Interlude
Culture Sway by Antonia K. Moore: Interview with Jay Elle. Culture Sway by Antonia K. Moore
What's Up with Rob and Chris: Interview with Jay Elle. What's Up with Rob and Chris
NYC Singer-Songwriter Jay Elle On The Five Things You Need To Shine In The Music Industry. Authority Magazine
On the cover of Indie Pulse Magazine. Indie Pulse Magazine
The Record Machine Show with James "Jimi" Michael Hollenstein. The Record Machine Show
Music Stars Helping Rock & Roll Make A Comeback: Jay Elle. Interview by Edward Sylvan, CEO of Sycamore Entertainment Group. Authority Magazine
An interview with chart topping talent Jay Elle. 1 In Music
Living the dream with singer/songwriter Jayelle. Living the Dream with Curveball. Curtis Jackson's Curveball
Ease Up EP and prior releases
"PICK OF THE WEEK! This is as confident a singer/songwriter as I've come across in 2019, and that's definitely saying something when taking into account just what a banner year it's been for his genre." Mark Druery – IndieShark
"New York City's Jay Elle opens his latest studio release with its title song "Ease Up (Into Love)". His fluid guitar playing sets an eloquent and mellow melodic tone for the song seconds in and the production captures the ensemble performance with the right fidelity and punch." Jodi Marxbury – Daily Pop News
"Jay Elle's new EP release Ease Up is a six song affirmation of the talents first exhibited on his 2016 release Rising Tide. Elle's unique synthesis of pop country, country, pop, and singer/songwriter material has an idiosyncratic slant setting it apart from many other efforts. The EP never follows a single path – Elle does more than work towards the lowest common denominator and mixes up the musical stew with changes in tempo and texture that keep listeners guessing throughout the release." Scott Carlito – Indie Band Guru
"As I mentioned, there's a progressiveness to this material that ensures the audience's attention right out of the gate, and as we move from one hurricane of harmonies into another, there's no abrasiveness in the shift between songs at all whatsoever. Elle has been working hard at refining his sound to be as streamlined as possible, and the fruits of his labor are on full display for all of the world to enjoy in this amazingly sharp and urbane extended play." Joshua Beach – Valhallamusicblog
"I just discovered this EP over the past week, but I've yet to put it down since first giving it a listen just the other day." Nicole Killian – mobyorkcity.com
""Needs Fixing" is easily one of the most efficiently produced songs that I've listened to in the folk genre all year, and in my opinion, it more than justifies getting a copy of Ease Up all by itself. It's the perfect segue from the country rhythm of "Take a Holiday" into the adult alternative swing of "By the Blade," but even if it had been pushed up to the start of the record, it would still be one of the most jarringly-arranged and melodically rousing compositions that Elle has attached his moniker to here or on any other recording he's cut thus far." Scottie Carlito – Carlito's Music Blog
"Jay Elle's aptitude for taking on multiple guises without ever losing the center of his art distinguishes him from other stylistic magpies but the convincing manner of his songwriting and performances does as well." Jamie Morse – bandblurb
"There is no denying Jay Elle's ability to craft an easily memorable song with strong melodies, body moving rhythms, and an uplifting energy that is guaranteed to boost your mood." Joshua (J.Smo) Smotherman – indiemusicdiscovery
"A moving dose of softness and warmth. A gentle and peaceful accounting of the modern-day life of ordinary people—executed in anything but an ordinary way. Jay Elle's second studio album, Ease Up, consists of six hand-crafted songs which are nothing less than totally relatable. Taking the approach of near minimalist simplicity in his composition, the final product of Elle's ambition is something tender, something authentic, something real. All in all, he's a singer-songwriter with a sparkling twist of hope, and a dash of unflinching honesty." thearkofmusic
"Glittering grooves are melded into a swinging beat that is straight out of the vintage pop playbook in "Never Dreamed (I Could Be the One)." Swaggering melodies find the perfect voice to convey their heavy-hearted tones in "Take a Holiday." "By the Blade" forces Jay Elle out of his comfort zone, if for no other reason than to show the audience just how much energy he can put into a single verse. It's a similar story with the virtuous "Sickly Sweet" and "Ease Up (Into Love)," and in all six of the tracks that fill up Elle's new EP Ease Up, there's something present to make any listener fall in love with the boldly self-aware lyricism and lovely harmonies that provide its greatest climaxes. Ease Up isn't as demanding a record as so many discs of its kind unfortunately tend to be; it instead beckons a time of easy-listening pop and folk crossover EPs that served as a lifestyle soundtrack as much as they did radio-samplers for a generation of DJs that were more interested in variety than they were glossy commercial interests." Garth Thomas – The Hollywood Digest
"The opener "Ease Up (Into Love)" highlights Jay's songwriting with a pretty guitar line and a vocal delivery that will let the listener settle into their chair for a fun and relaxing listen." indiebandguru
"Jay Elle's vocals have an irresistible pop pureness on "Take a Holiday." His voice is down to earth and very clear as he expresses the laid-back lyrics. Jay Elle's vocal performance speaks to us with a positive, universal appeal that flows like an easy river; he is so pleasant on the ears that his singing washes away your worries and takes you on a holiday." pleasepasstheindie
"Jay Elle is a rare performing artist who can balance pop sensibilities with a genuine personal message without ever erring too far over to one side of the equation. Ease Up has already earned Elle fulsome praise from many quarters and the praise is wholly justified; Elle is experiencing an early peak with this release, but I get the sense listening to this collection that he has only started scratching the surface of his abilities." Heather Savage – razorfishreview
"Jay Elle's songwriting covers a gamut of styles. His work spans the singer/songwriter, pop, country pop, and Americana genres with effortless skill and the efforts never sound disjointed. The melodic strengths of Elle's six song EP Ease Up are apparent throughout and never feel forced; instead, they will strike most listeners as a natural outgrowth of his songwriting aesthetic. His ability to straddle multiple styles without ever losing his audience is a hallmark of a five star songwriter and artist." John McCall – Too Much Love Magazine
"There are no holes in Jay Elle's Ease Up. It's a master class in pop singer/songwriter craft that stands out from the pack for a variety of reasons but chief among them is his ear for melody and personality shining through during each of the EP's six performances. It's a collection well worth pursuing." Bethany Page – Vents Magazine
"Ease Up is a truly easy-listening experience that doesn't ask a whole lot out of us in exchange for the melodic treasures that it offers, and in terms of compositional integrity, it's absolutely one of the more impressive EPs that I've heard this season. Jay Elle is in the top tier of his class, and in this record he highlights why he deserves the respect of the masses now more than ever." Zachary Rush – IndieMusicReviews.net
"As always, Jay Elle's music sits in a place that is both easy to identify but hard to pigeon-hole. By that I mean that you can see the musical building blocks that he uses, sweet country vibes, pop sensibility and groove, indie cool and folky dexterity but the end result makes for something that doesn't quite perfectly fit in any one of them. Which is just how it should be, who wants music that sits neatly into pre-determined boxes when you can have music happy to wander about outside (put within earshot) of the boxes? Exactly!" Dave Franklin – Dancing About Architecture
"The EP has 6 tracks that are sure to brighten your day like a ray of sunshine. The songs are bright and warm, and will lighten your soul." Indie-Spoonful
"One thing I was really blow away by was the guitar tone on this track. It's so crystal clear and has the perfect sparkling chime to it. It's the first thing that hits you and really leaves an impression, like you already know the song is going to be good. The vocals are really what give this jam its pop flavor. Jay has one of those bright, summertime voices that leaves you feeling upbeat and optimistic." stepkid.com
"Gentle string melodies and a soft rock groove are tossed into a sonic mixing bowl in Jay Elle's "Needs Fixing," and with every verse that the talented singer/songwriter croons to us, his command of the adjacent instrumental harmony grows all the stronger. In this track and the five others that accompany it in the brand new EP Ease Up, Elle finds a creative way of getting his point across to us, and even in barebones songs like this one, there's never an instance where he leaves us feeling underwhelmed by his skillset. He's really focused in this record, and as I see it, setting a new standard for his scene in general." Gashouseradio.com
"…one of the more concrete collections of pure American balladry that any audiophile, young or old, will likely hear this September." indiemusicreview
"The vocals are as soft as velvet, the guitars steeped in a golden melodicism that is hard to forget and impossible to ignore whenever it fills the air around us, and when all of the components are working in perfect tandem, they create an evocative energy that is simply contagious, no matter how many times we've encountered it. Throughout the whole of his all-new extended play, Jay Elle exhibits his sound at its most mature and physically robust to date, fuses mild country twang with supple soul serenades and a conventional pop songwriting aesthetic, and dishes out tracks that warrant repeat listens right out of the box." Michael Rand – Mobangeles.com
"The new song is the lead track from his new Ease Up EP and showcases his timeless and immediate songwriting against a backdrop of chiming folk-pop guitars and a mellow, summery energy. Fans of The Lumineers, Counting Crows, Jack Johnson – you just found your new jam…." gigsoupmusic
"Jay Elle brand of pop is refreshingly uncomplicated as witnessed by 'Sickly Sweet' a catchy and unpretentious piece that veers a little towards modern folk." beehivecandy
"Ease up (Into Love) is a soft-rock track that refreshes the singer-songwriter style of performers like John Denver and Gordon Lightfoot. Jay Elle's instrumentation link together the Barenaked Ladies and Semisonic with a very germane and honest approach. There's a surprising deep sound to this introductory track that will continue to yield dividends to listeners even five or ten plays in." NeuFuturMagazine
"Honestly, it's impossible not to like Jay Elle. Not only is his music heartwarming, organic and nurturing, but he also has this pizzazz to him that is beyond charming. In "Ease Up (Into Love)," one of the singles off of his new EP, Jay finds a way into our souls, blessing us with a gem that oozes with feel-good vibes." ratingsgamemusic
"In these turbulent times, and a sometimes mixed up world, it's always nice to hear something so uplifting and positive as the music Jay Elle creates." MusicNotez
"Overall the album is professional and creative. We find it extremely good and the artist has talent and the music, lyrics and production everything has been done exceptionally well throughout this album. Overall its a fun listening to the music and I am sure you would put it to repeat mode." twistonline
"Jay Elle is bringing the musical edge with his newest album called Ease Up! I was able to check out his latest album on Spotify and it was very well blew me away. The Spotify edition was easy to use and locate his music on the media player. I was able to stream his album and just engulf myself with is new album. I can see why he is on 4 musical charts and climbing for his newest album." dropthespotlight
"Jay Elle's single "Ease Up (Into Love)" is executed so gracefully and lovingly that the artist somehow makes it feel like it comes naturally to him, applying light touches to his voice to illuminate the intimacy of his understated songwriting. Jay Elle brings out the vulnerability in each one of us when making attempts at finding love. A new relationship is uncharted territory, and most of us have natural fears of the unknown." xttrawave
"From conception to execution and production aesthetics, this EP is a true gem, which allows listeners to peek into Jay's mindset and songwriting attitude. Whether it's rock, pop, folk, or R&B, he is able to bring many styles under one roof and create a one-of-a-kind tone." thebandcampdiaries
"This recording is full of extremely pleasant, well written and nicely arranged music. It has all the elements of great writing, melody, outstanding groove, excellent recording and a whole bunch of subtle, musical beauty. Let's say that this recording has rekindled hope in me that there really still are artists out there who know how to make great melodic music." jamsphere
"Jay Elle's voice is absolutely delicious, and so soothing. The current single, "Ease Up (Into Love) is very carefully crafted, and it's exquisite to listen to." indiepulsemusic
"Ease Up (Into Love) is a wonderful musical experience that is comprised of five tracks. Jay Elle's warm acoustic instrumentation adds heavily upon the continuity and quality of the project. Ease Up (Into Love) totes some well-crafted melodies and guitar strums that are very striking. Take A Holiday is one track that stands out front for its inventiveness as it certainly exemplifies much of the EP's charming premise. Ease Up (Into Love) by Jay Elle is a charm for purists who understand the brilliance of beautiful music."  warlockasyluminternationalnews
"Jay Elle proves to be a deft singer-songwriter on the soothing country pop of "Ease Up (Into Love)". A tremendous amount of warmth radiates throughout the whole of the collection. Narratives emerge showing off small vignettes of a life lived to the fullest. Optimism is woven into each piece further lending it a sense of tenderness. With vocals that have a laid-back, mellow quality, Jay Elle sings straight from the heart. Rock, pop, country, folk, and a hint of soul, the entirety of the journey has a majestic quality to it. The arrangements merge all of these genres together in a way that feels so bright and airy. " beachsloth
"Definitely, the biggest interest in this EP is the title track, which is a peaceful and yet very enjoyable track that is going to appeal to everybody who is into the kind of country music that Elle does. Why is this? Because he is a very melodic and logical musician, who knows what melody to use and how to use it, which is something that has very positive results in this particular situation and with this kind of musician." musicexistence
"So then who is Jay stripped unplugged of the influences that makes his sound palatable?  I can imagine you'd say something like: mature musicality, youthful vocals, dreamy cotton cords, gentle masculinity, and easy flow. A totally deezable playlistable sequence of tracks that's designed for the foreground and the background." redcarpetliving
"From full-bodied sweeps to glimmering hums — Jay Elle alertly exploits the many voices that he has; adding textures and shaping the melody." callingallgigs
"A country folk feel emanates from this wholesome sounding song, straight out of a field bathing in the summer sun, perfect for the open road. Images of wide spaces and fresh air fills the imagination of its listeners, while the music, quality production, a great voice and nice lyrics carries us away!"  Boulimique de Musique
"It's very joyful and soothing." Lost Song
"Nice melody, I like the arpeggios and the voice, it's well produced as well. This track would find its way easily into our Smooth Indie playlist." Indeflagration
"A heartfelt love song performed by a fantastic artist with clarity, strong guitars and a deeper message. The way Jay places his guitar riffs and vocals (so carefully and beautifully) makes me reconsider my view of country music. More rock than pop or folk, this is something all people can enjoy." The Other Side Reviews
"Delicately uptempo and seriously addictive, this track is pure country for the 21st century. Ease up, ease up!" Olivier – Music in Belgium
"We love this song, we love this musician and we love this country music. The voice is perfect. and it's just a perfect song." Le Jeune Musical
"Das Mini Album Ease Up ist für jeden ein absoluter Hinhörer, der auf gut durchdachten Gitarren-Pop  steht. Auf insgesamt sechs Titeln, bietet der New Yorker Musiker Jay Elle einen lässigen und talentieren Mix aus Acoustic Pop mit einer Spur Folk und einer ordentlichen Portion moderne…" shewolf
"Coming on the heels of his Top 40 charting song "Never Dreamed," mixed by Brent Kolatalo (Bruno Mars, Ariana Grande, One Republic, https://brentk.com), Jay Elle asked Brent to mix all the tracks of this new EP, including the first single "Ease Up (Into Love)." The result is a dynamic, polished and tasteful mix of "Ease Up," a thoughtful well-crafted song, offering words of wisdom to those looking for love…" lyricsandthreads
Radio/Podcasts Interviews:  
The David Bowers Awards with Jason Robert 
Better Each Day with Bruce Hilliard 
Celebrity Tea Podcast with Nick Bestany
The Evan Ginzburg Show (June 30) 
The Spirit of Country with Thomas Dowswell 
Magazine/Blog Interviews: 
Broad Tube Music Channel Interview 
IndiePulse Music Exclusive Interview
Radio DJs and Programmers Feedback:
"Catchy tune." Jim Fisher (WGCS 91.1FM, South Bend, IN, USA/The Globe) 
" LOVE IT, LOVE IT, LOVE IT ." Bryant S LittleJohn (KISS108FM / JOY94.4FM / KIK94.5&88FM / VARIOUS INTERNET STATIONS) 
" Nice track, great lyrics. Overall, great production. Would like to, and Need, to hear more from Jay Elle." Mike Stewart (100.3FM & Good Morning Country, Sydney Australia) 
"Good…solid track with great production and sound." Peter Englefield (Phoenix Country Radio – Leeds, UK)
"Great song." Harco Van Dijk (Round and Sound Radio, Netherlands) 
"Very nice, easy listening country vibe." Bill Black (Celtic Music Radio, Scotland)
"Very enjoyable." Martin Smith (Radio Seagull 1602 AM, Harlingen, UK) 
"Thanks for this refreshing music and artist." Pippo Germaine (KC Radio Europa, Germany)
"Great, easy listening country music." Kay Gray (MAXFM 91.3, Narrabri, NSW, Australia)
"Thanks for the chance to hear this." Colin MacDonald (Folkal Point Syndicated Radio Show, Scotland/ An Reidio 105.2 FM)
"Nice. In rotation on Z Country Radio." DJ Gee Man (The HIllz 98.6FM, Coventry, UK)
"Good track for my Teatime Show on Argyll FM." Trevox (Argyll FM, 106.5 FM, Campbeltown, Scotland)
"Great song." Gibbi Franzen (Rock Radio, Germany)
"A catchy piece of music!" MIke Fulton (RadioVideo, Belfast, Ireland)
"Just Great." Jorge Arnanz (Route 66 Radio, Spain)
"Good country song." John Andersen (Radio Dandelion Fredericia 91.5FM, Middelfart, Denmark)
"A track for Radio VGR." Mark Farrant (Radio VGR, Norfolk, UK)
"Easy listening country-pop track. Real good." George Milos (Radio Flora TM, Timisoara, Romania)
"Nice one, favorite track." Tjerk Coers (Armada Music, Netherlands)
"Sounds good." Peter Hills & Philippe (Radio Waves International, France)
"Definitely an artist to watch for in the future." Kev Walker (The Cat 107.9 FM, Crewe, Cheshire, UK)
"Wonderful song for my show." DJ Don Hollander (Radio Zeeuws/DogTag FM, Netherlands)
"Excellent. Well done. Very interesting voice." Kurt Gabriel (ECMA Radio, Austria)
"Good sound." Martin Gilles (Radio Aria 99.6, Longwy, France)
"One for out station and playlist." Stevie Gordon (Radio Seagull 1602 AM, Furnes, Norway)
"Good swinging song." Dan Stokes (7TAS, Tasman FM 97.7, Nubeena, Tasmania)
More Reviews: 
"We enjoyed your song "Twelve on Sunday." Your voice is wonderful. Smooth and flexible with a fresh and unusual tone. You capture attention with your intonation and clarity, that's your strength. It's nice to see an artist being innovative with their sound." A.V.A Live Radio
"Twelve on Sunday is an incredible song by artist Jay Elle. Singing about his history he once shared with a girl who he deeply cares for. It seems as if he's curious of her whereabouts & wonders about her recent actions. He also explains that this girl likes to do anything she feel that may get her in trouble. Could this be the reason she's no longer around? This single left me with many unanswered questions as a story was revealed in my ears through melody. What ever happened to the girl? For that reason is why I'm in deep hopes for a part two. A beautiful guitar playing in the background, with smooth & passionate lyrics by Jay Elle." 4 out of 5 Flames is the rating I feel this single deserves. But take a listen for yourself & you be the judge!  anthony tucker – trendcityradio.com
This Sound Nation Music Magazine
"Beautiful song, a hit. Great voice. The lyrics are very original. Intricate guitar arrangement that support the melody really well. I love the classical guitar. It is not used very often in pop songs." BC
"… brilliant! Haunting melodies, beautiful voice. Great songs!…" Diane 
"What a beautiful voice. Twelve on Sunday is a great song." C.