Get Your Free Song!
DOWNLOAD AN OPTIMISTIC HIT SONG GUARANTEED TO MAKE YOU SMILE AND LIFT YOUR MOOD
"THERE IS NO DENYING JAY ELLE'S ABILITY TO CRAFT AN EASILY MEMORABLE SONG WITH STRONG MELODIES, BODY MOVING RHYTHMS, AND AN UPLIFTING ENERGY THAT IS GUARANTEED TO BOOST YOUR MOOD"
— JOSHUA (J.SMO) SMOTHERMAN, INDIEMUSICDISCOVERY
FOR A LIMITED TIME JAY ELLE IS GIVING AWAY A FREE HIT SONG FROM HIS EP "EASE UP".
ENTER YOUR NAME AND EMAIL ADDRESS BELOW AND YOU'LL RECEIVE ONE OF JAY ELLE'S HIT SONGS FOR FREE!
This FREE hit song was mixed and mastered by Grammy nominated engineer/producer Brent Kolatalo (Lady Gaga, John Legend, Lana Del Rey, Bruno Mars, Ariana Grande, One Republic…).
About Jay Elle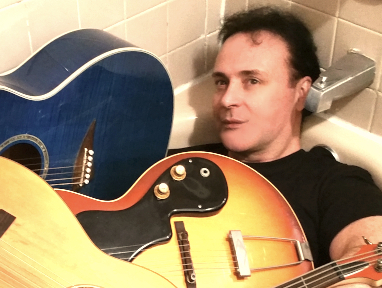 "A moving dose of softness and warmth. A gentle and peaceful accounting of the modern-day life of ordinary people—executed in anything but an ordinary way. Jay Elle's second studio album, Ease Up, consists of six hand-crafted songs which are nothing less than totally relatable. Taking the approach of near minimalist simplicity in his composition, the final product of Elle's ambition is something tender, something authentic, something real. All in all, he's a singer-songwriter with a sparkling twist of hope, and a dash of unflinching honesty." – The Ark of Music
"Glittering grooves are melded into a swinging beat that is straight out of the vintage pop playbook in "Never Dreamed (I Could Be the One)." Swaggering melodies find the perfect voice to convey their heavy-hearted tones in "Take a Holiday." "By the Blade" forces Jay Elle out of his comfort zone, if for no other reason than to show the audience just how much energy he can put into a single verse. It's a similar story with the virtuous "Sickly Sweet" and "Ease Up (Into Love)," and in all six of the tracks that fill up Elle's new EP Ease Up, there's something present to make any listener fall in love with the boldly self-aware lyricism and lovely harmonies that provide its greatest climaxes. Ease Up isn't as demanding a record as so many discs of its kind unfortunately tend to be; it instead beckons a time of easy-listening pop and folk crossover EPs that served as a lifestyle soundtrack as much as they did radio-samplers for a generation of DJs that were more interested in variety than they were glossy commercial interests." – Garth Thomas, The Hollywood Digest
"The singer-songwriter sound has been making a big comeback in 2019, with some of the industry's best keep secrets like Jay Elle bringing a no rules/no limitations-style attitude to the genre that had been missing from its discography for far too long. In Jay Elle's new record Ease Up, he goes as deep as he ever has with songs like "By the Blade," "Take a Holiday" and "Needs Fixing." – Nicole Killian, Moby City